E. Mandoulides Schools Stand out As Microsoft Showcase Schools
 Mandoulides Schools have been announced for a consecutive year by Microsoft as
Showcase School 2018-2019
, due to the best practices they use to harness technology in the educational process and to provide a personalized teaching.
Mandoulides Schools, stood out for their remarkable and valuable work, which aims to integrate technology and innovation into the modern classroom. In particular, they have succeeded, through Microsoft's innovative mobile and cloud technologies, to enhance the learning process by offering their pupils new and more personalized ways of learning by providing them with the skills of the 21st century.
In this year's announcement, Microsoft has selected a photo of Mandoulides Schools. Click on the photo to view the original article.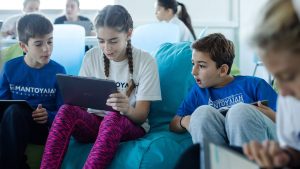 Among the Leading Schools in the World
With their nomination as Microsoft Showcase Schools, the schools become part of an exclusive community made up of 400 leading schools from around the world. Participation in the program enables, through their close collaboration with Microsoft, to further upgrade their leadership in the application of innovative practices, through their interaction with consultants from Microsoft and with international mentors, but also through sharing experience and know-how with the other schools involved in the community.
 Microsoft Showcase Schools
The schools participating in this community are distinguished educational institutes with a leading vision for change and with an innovative teaching environment in which students promote innovative actions and build new capabilities and skills.
Also, Microsoft Showcase Schools can take part in Microsoft product testing as well as in company pilot projects on digital reforming of the educational process. In addition, for the schools involved, the program is a unique opportunity to promote their pioneering work, while giving school teachers an impetus to their professional development.
This recognition gives Mandoulides Schools unique opportunities to collaborate with other schools and educational institutions worldwide to foster fruitful collaboration in innovative projects. It also gives the opportunity to participate in a community of pilot schools, while teachers have access to professional development programs that focus on their leading educational profiles.
Microsoft Showcase Schools – Education Transformation Framework
The Schools had a dynamic presence at Microsoft's top event in Dublin!
Dr. Maria Tsitiridou, Head of the Academic & Educational Sector of Preschool and Primary Education of the Schools, and Mrs. Maria Papadopoulou, New Technologies Coordinator of the School, took part on September 28 and 29 at the Microsoft Showcase Schools Meeting in Dublin.
During the Meeting, the pillars of the vision and concerted efforts of these schools for a modern, novelty and innovative educational system were discussed. The Education Transformation Framework is based on four key "pillars":
​Leadership & Policy
Modern Teaching & Learning
Intelligent Environments
Technology Blueprint
In cooperation with Microsoft, these schools open a new chapter on integrating technology into the teaching process, providing students with attractive learning experiences. Their aim is to be a lighthouse for the technological transformation of the other schools.