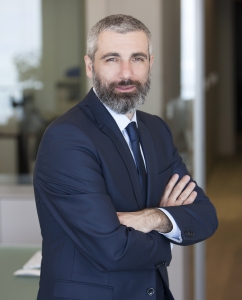 Professional experience
Peter Tarnatoros became a member of the Bar of Thessaloniki in 2005 and litigated vigorously in cases of insurance law, automotive accidents, labour law, real estate and land registry law. He also gained valuable experience in contract  law (Sales, Construction, Lease, Loans etc) and consumer protection legislation.
Expertise
Peter is a member of Koumentakis & Associates since 2016 and he is currently a Senior Associate in the firm, involved in counseling as well as litigating in court. 
Summary
Peter Tarnatoros was born in Thessaloniki (1976), he studied in the Law School of Aristotle University of Thessaloniki, where he acquired his degree (bachelor, 2003) in Law after spending  an interim year of studies in the Rober Schumann Law School in Strasburg. Peter holds a postgraduate degree in the Land Registry Law (Land Registry Law: Legal, Technical and Enviromental Aspects) of the Aristotle University of Thessaloniki (Interdisciplinary Program of Postgraduate Studies of Law, Surveying Engineering, Forestry and Natural Environment Schools).  He speaks French fluently and good English. 
Contact us
Nikis Avenue & 1, Morgenthau st.
546 22 Θεσσαλονίκη
Τ: (+30) 2310 27 80 84,
(+30) 2310 26 88 33,
(+30) 2310 22 60 30
F: (+30) 2310 226 496
E: [email protected]