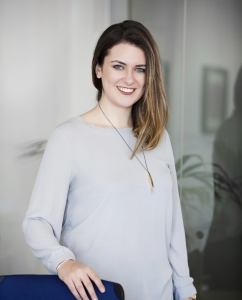 Summary
Born in Thessaloniki (1993), she concluded her bachelor studies at the Law School of Democritus University of Thrace and acquired her degree in 2016. During her studies, she  periodically interned for Koumentakis & Associates.
In the summer of 2015 she also worked as an intern in London for Memery Crystal LLP (one of the most esteemed Law Firms in London).
In 2018 she acquired her LL.M. in International Business Law (IBL Program) from the National University of Singapore (NUS), offered partly in Singapore and partly in China (Shanghai), where it was hosted by East China University of Political Science and Law (ECUPL). 
She is now an Associate in Koumentakis & Associates.
She is highly proficient in spoken and written English.
Contact Us
Nikis Avenue & 1, Morgenthau st.
546 22 Θεσσαλονίκη
Τ: (+30) 2310 27 80 84,
(+30) 2310 26 88 33,
(+30) 2310 22 60 30
F: (+30) 2310 226 496
E: [email protected]