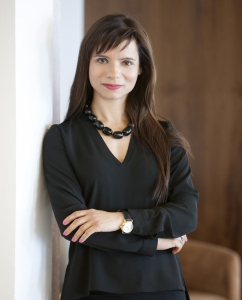 Professional Experience
Rena begun her career working as a trainee in Macedonia Thrace Bank legal department. She is an independent associate-lawyer of Piraeus Bank for the last 15 years and she acquired an extensive experience in debt recovery and the entire spectrum of bank agreements.
She is a member of the firm since year 2000, now a Senior Associate.
Expertise
Rena is heavily involved in litigation and has broad knowledge of civil, labour and corporate law, with an emphasis in counseling financial corporations. 
Summary
Born in Thessaloniki in 1974, she concluded her law studies at the Aristotle University of Thessaloniki in 1997 and became a member of the Thessaloniki Bar in 1999. In 2012 she acquired he master's degree in Transnational European Commercial Law and Alternative Dispute Resolution , Energy Treaty from the International Hellenic University. She speaks English and French fluently and has good knowledge of Italian.
Contact Us
Nikis Avenue & 1, Morgenthau st.
546 22 Θεσσαλονίκη
Τ: (+30) 2310 27 80 84,
(+30) 2310 26 88 33,
(+30) 2310 22 60 30
F: (+30) 2310 226 496
E: [email protected]