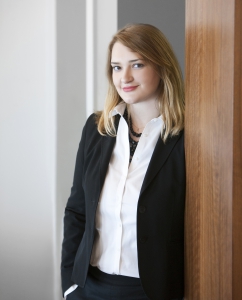 Professional Experience
After she acquired her degree in Law in 2007 Petrini concluded her 18 months of training in KOUMENTAKIS & ASSOCIATES Law Firm, where she gained experience in banking and corporate law.
She is a member of the Bar of Thessaloniki and an associate of the law firm since September 2009 (now Senior Associate). 
Expertise
She is currently involved in litigating in court as well as counseling for major corporate clients.
Main areas are: 
commercial contracts

construction contracts

real-estate/property

renewable energy sources

Trademarks & Intellectual Property
Summary
Born in Kavala (in 1984) she studied in the Law School of Democritus University of Thrace. In 2014 she was trained and accredited as a Mediator by the Alternative Dispute Resolutions group (ADRg) based in UK, as well as by the Greek Ministry of Justice, Transparency and Human Rights. In 2016 she acquired her MSc in Medical Law («Contemporary Medical Acts: Legal Regulation and Bioethical Dimension») by the Interdisciplinary Program of Postgraduate Studies of Law, Medicine, Dendistry and Theology Schools of Aristotle University of Thessaloniki. She speaks English fluently and quite good French.
Contact Us
Nikis Avenue & 1, Morgenthau st.
546 22 Θεσσαλονίκη
Τ: (+30) 2310 27 80 84,
(+30) 2310 26 88 33,
(+30) 2310 22 60 30
F: (+30) 2310 226 496
E: [email protected]