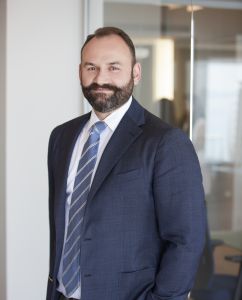 Professional Experience
Lambros concluded his 18 months of training in Macedonia-Thrace Bank and became a member of the Bar of Thessaloniki in August 1998.
He gained valuable experience in banking law for 10 years (2000-2010) working as a lawyer for Bank of Cyprus (independent associate).  A member of Koumentakis & Associates since 2004, he became a Partner until 2019. He is now a Of Cousel Attorney.
Expertise
Lambros Timotheou is involved as counseling for major corporate clients as well as litigating in court in topics such as:
corporate governance

mergers & acquisitions

staff matters
His area of expertise includes: Corporate Law, Labour Law, Real Estate Transactions, Banking Law, International Sales Agreements.  
Summary
Born in Thessaloniki (October 3rd 1974) he studied in the Law School of Aristotle University of Thessaloniki, where he acquired his degree (bachelor, 1996) in Law and a postgraduate degree in Criminal Law (1998). Speaks English fluently and good French. 
Contact Us
Nikis Avenue & 1, Morgenthau st.
546 22 Θεσσαλονίκη
Τ: (+30) 2310 27 80 84,
(+30) 2310 26 88 33,
(+30) 2310 22 60 30
F: (+30) 2310 226 496